New Delhi : ( Indian Express ) Close to 50 shanties housing Rohingya Muslim refugees in southeast Delhi's Sarita Vihar were gutted in a fire that broke out in the early hours of Sunday. According to the Delhi Fire Services (DFS), a call was received at 3.38 am about a fire from Kalindi Kunj in Madanpur Khadar. Eleven fire tenders were dispatched to the spot and it took three hours to douse the flames, a DFS official said. According to police, the cause of the fire is yet to be ascertained. Police said preliminary investigation, however, suggests that the fire could have started from an office building located next to the refugee camp.
"No one was injured, except a resident of the camp who received minor burn injuries on his hand. Three cylinders also exploded during the rescue operation by police and fire department officials. A short circuit is expected to have caused the fire," a police officer said. DCP (southeast) Chinmoy Biswal said they have registered a case under relevant sections against unknown persons at Jaitpur police station, and are looking into what caused the fire.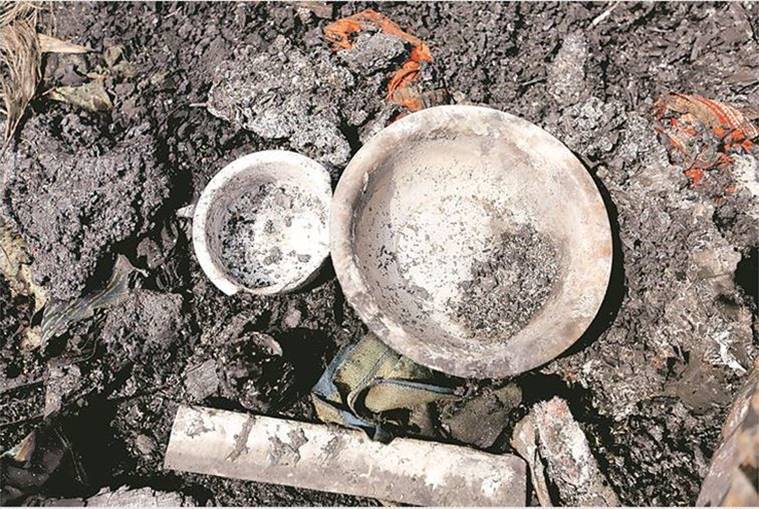 For now, the families have been moved to a temporary camp nearby, with NGOs distributing food packets and water. (Gajendra Yadav)
For now, the families have been moved to a temporary camp nearby, with NGOs distributing food packets and water. "The shanties were completely gutted in the fire. We are helping them with food and water. We will rebuild their shelter and also provide financial aid," said Abdur Rehman, a volunteer from Zakat Foundation of India, an NGO working for Rohingya Muslims.
'We lost our refugee cards, money'
Mohammad Shakir, one of the residents of the camp told The Indian Express that about 230 Rohingyas stayed there. "We have lost everything, including refugee cards and money, as the fire spread very quickly… We don't know how the fire broke out. We have been living here for six years," he said.
Another resident said they had hired a private security guard to keep watch at night but he stopped reporting for duty three months ago. "We are poor and have no source of income… we managed to pay him Rs 8,000 a month. But he stopped showing up for work," Mohammad Saleem, a resident, said. Saleem used to run a grocery shop in his shanty where he lived with his wife and two children. "We were sleeping when the fire broke out around 3.30 am. I heard people shouting and rushed out. On seeing the fire, I quickly got my family out of the hut," he said. "Only a mobile phone that I keep in my pocket survived the blaze," Saleem said.